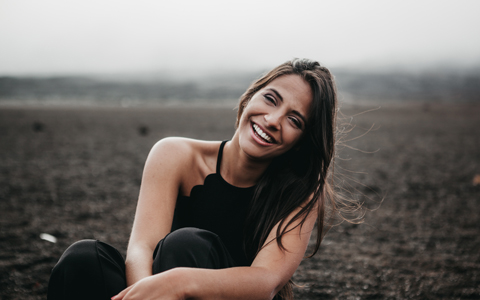 Do you hesitate to smile due to a few minor tooth flaws? Dental veneers can be a great way to restore your teeth. Our porcelain veneers are made from an ultra-thin material that instantly changes the look of your smile.
Benefits of Dental Veneers
Did you know that porcelain veneers can cover flaws while strengthening teeth? Dental veneers are often used to repair the following:
Stained teeth.
Chipped teeth.
A small gap between teeth.
Misshapen teeth.
A few misaligned teeth.
Our dental veneers are made from a thin porcelain shell that is bonded to your teeth. You can have a brand new smile with the assistance of Dr. Katie Coniglio and our talented staff!
Veneers for a More Confident Smile
In our society, we do a lot of communicating with our smiles. If you are hesitant to smile because of a cracked tooth, stain, or calcium deposit, veneers are a great solution. You can smile without worry with our beautiful porcelain veneers!
The Veneers Process
We start with a consultation visit where Dr. Coniglio will examine your teeth and make a recommendation. We then make a digital imprint of your bite and send the images to the dental lab. Your veneers may take one to two weeks to create.
When your veneers are ready and returned to our office, we'll call you in for placement. The dentist removes a tiny amount of enamel to make room for your veneers. Once we check the fit, the veneers are permanently bonded in place.
Share Your Smile!
After your veneers are places, you are ready to share your smile with the world! You'll keep brushing and flossing like you normal, and you may want to avoid darkly pigmented drinks or food.
For a Beautiful New Smile, Call Our Office About Dental Veneers Today!
Are you ready for a stunning smile? Call our office today to schedule your consultation! We're excited to keep you smiling!