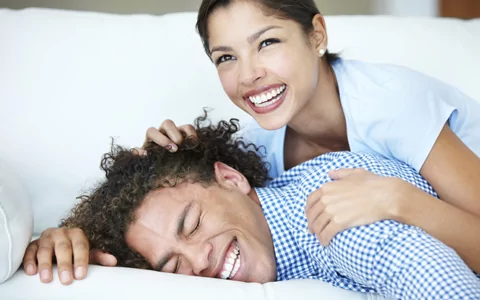 For our patients who are missing one or more teeth, we offer dental implant restoration. Dental implants are gaining popularity because of their many benefits to people who have lost teeth. At Coniglio Family Dentistry, we want you to feel amazing and we can restore your dental implant for a full, beautiful smile!
Benefits of Dental Implants
Many of our patients are surprised at how beneficial a dental implant can be. Dental implants can:
Fill in a gap in your smile caused by a missing tooth.
Create strength and stability comparable to your original teeth.
Encourage jawbone regrowth and improve density.
Restore your ability to eat and speak without worry.
Stop surrounding teeth from shifting out of place over time.
Look and feel like your natural teeth.
Our office can restore your dental implant with a beautiful new tooth made from durable, lasting material. We can also recommend an excellent professional who can place dental implants.
Tooth Replacement at Coniglio Family Dentistry
Dr. Coniglio and our dental team use advanced dental technology to help us provide precise and quality treatment. We'll also make sure you feel comfortable here in our office throughout your entire visit. Each member of our team works together to ensure your dental implant restoration runs as smoothly and effectively as possible.
A Full Smile for Confidence and Health
Restoring your teeth fills in the gaps left by missing teeth to give you a full, beautiful smile! Our society places a lot of importance on using smiling as a method of communication. When you can appreciate your smile more, you'll use it more.
A confident smile can also go a long way when you have an important upcoming event. Are you getting married or attending a wedding? Are you planning on changing careers? Let us show you how our dental implant restoration can give you the confidence boost you need.
Do You Have Questions About Dental Implants? Call Today to Schedule!
Do you have any questions about dental implants, or would you like to schedule an appointment? Call our office today! Our friendly staff is ready to work with you so you can attain the dazzling smile you deserve.